Retro Chesterfield Sofa With a Touch of Modernity
Product Info
Poppie chesterfield sofa is a stunning blend of classic elegance and modern comfort.
Crafted with a sturdy solid wood frame and upholstered in luxurious talco fabric in a rich dark brown hue, this sofa exudes sophistication and comfort. Featuring classic rolled arms and the signature button-tufted back, this chesterfield sofa is a statement piece that will elevate any room.
Available in a single armchair, 2-seater, 3-seater, and L-shaped configurations, the Poppie chesterfield sofa offers versatility to fit any space.
Product Specifications
Details
Materials : Oak + Solid Wood + Plywood + Fabric

Sofa Frame

: Solid Wood + Plywood

Sofa Cover

: Fabric
Sofa Leg : Oak
Dimensions
Width : 99cm (1 Seater)
Depth : 87cm (1 Seater)
Height : 78cm (1 Seater)
Width : 154cm (2 Seater)
Depth : 87cm (2 Seater)
Height : 78cm (2 Seater)
Width : 208.5cm (3 Seater)
Depth : 87cm (3 Seater)
Height : 78cm (3 Seater)
Width : 207.5cm (3 Seater + L shape)
Depth : 87cm (3 Seater + L shape)
Height : 78cm (3 Seater + L shape)
Line Dimension
Sofa

Dimension : W99cm*D87cm*H78cm (1 Seater)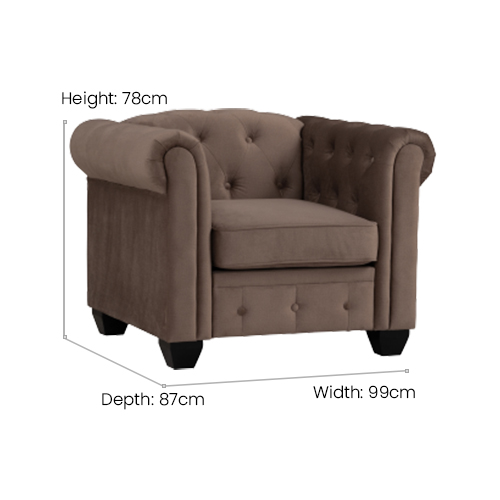 Sofa

Dimension : W154cm*D87cm*H78cm (2 Seater)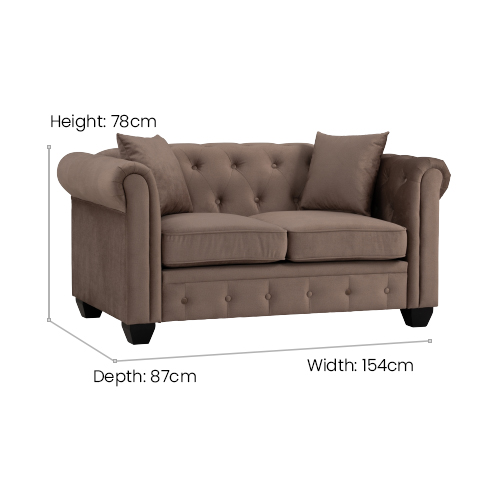 Sofa

Dimension : W208.5cm*D87cm*H78cm (3 Seater)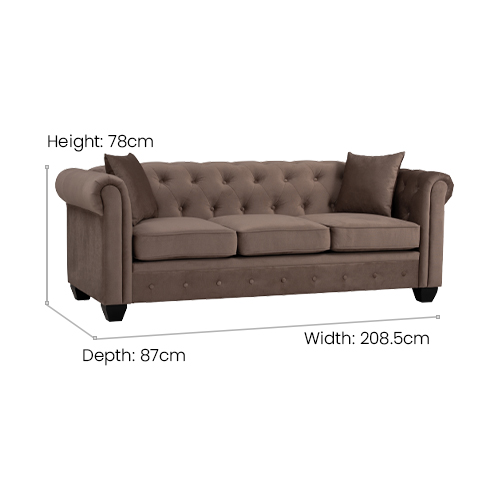 Sofa

Dimension : W207.5cm*D87cm*H78cm (3 Seater + L shape)