Spacious Shoe Cabinet: 2 or 3 Door Options
Product Info
The Moshe shoe cabinet caters to your storage needs with 2 or 3 door options.
The 3-door variant holds 70-90 pairs of shoes across two compartments, with 4 tiers in one and 3 tiers in the other. Opt for the 2-door variant to store 50-70 pairs, featuring 5 tiers and a drawer on top.
Customise your storage with this versatile, space-saving cabinet.
Product Specifications
Details
Materials : Laminated Board

Cabinet

: Laminated Board
Dimensions
Width : 79cm (2 Door)
Depth : 35cm (2 Door)
Height : 122cm (2 Door)
Width : 115.6cm (3 Door)
Depth : 35cm (3 Door)
Height : 122cm (3 Door)
Line Dimension
Cabinet

Dimension : W79cm*D35cm*H122cm (2 Door)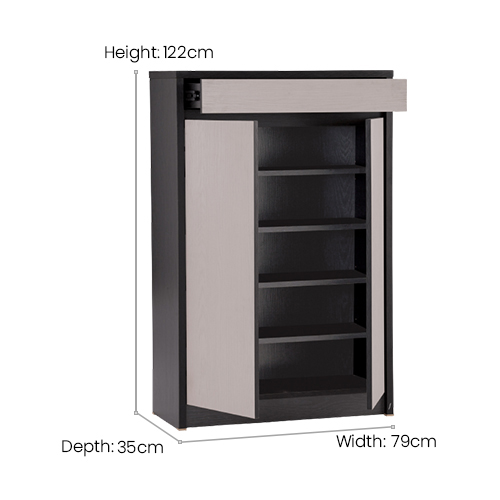 Cabinet

Dimension : W115.6cm*D35cm*H122cm (3 Door)