I definitely need to step my book game up. But trust me when I do, I want built-ins devoted to them. What about a home library? You could have your own little Barnes & Noble bookstore. Adequate lighting, comfy seating, and some slick interior design would be heaven for me…
In addition to the cowhide covered pillows and chair, and the reflective finish on the wood, I love how this space has natural light…
This is my kind of space. Cozy and comfy. The arches in the ceiling gives nice architectural details, the chair seems über relaxing to curl up on and I love splashes of colors with the book ends…
 One would need a ladder to make this shelving unit functional. But it creates a nice focal wall…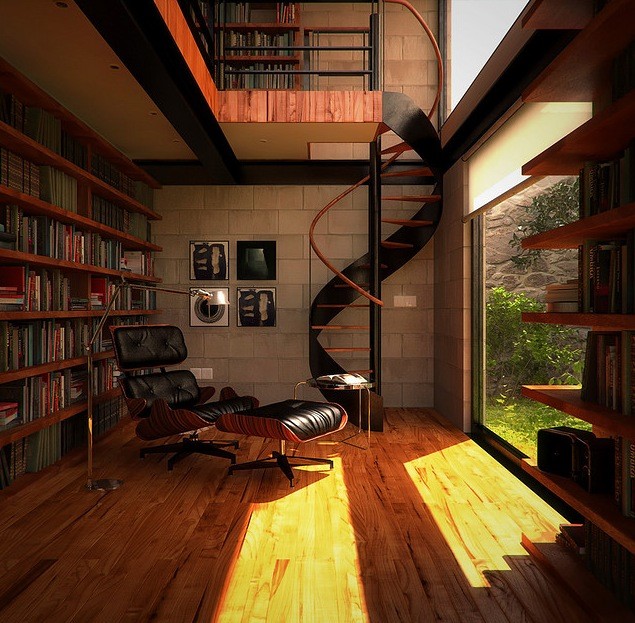 Love the wood and the spiral staircase. This reminds me of a family my father used to know back when I was a child. I would sometimes go with him there and I remember …being in their library/sunroom area and people coming down the spiral staircase. That was the first time I was introduced to them. And another funny note. The lady of the house had subscriptions to all sorts of magazines. So she would give them to my dad to give to me instead of tossing them. Ever since then I have a fondness of mags. Whether its clothing, style, gossip, whatever. I love them all and everyone who knows me, knows that I keep some on me at all times. Back then, was the first time I came across an Architectural Digest, and I never parted ways with the book. To this day I still have that issue from the 90s.
Guess design was kinda meant to be…
I believe this is a computerized rendering, I could be wrong, nonetheless, I like the loft styled design of this space. The skylights make the room even better…
Cozy fireplace? Check. Beautiful blond hued herringbone floors? Check. All we need is a chandelier and this room would be completely fabulous…
Glam red studded door and red lamp shades stands out against the black built-ins…
Now whenever you go into a bookstore they usually have pyramids stacked on tables. Why not incorporate that in your home? You could group by color, genre, whatever…
This last one has all sort of whimsical elements. So which is your favorite. If you had to pick one without changing a thing, which would you pick? If I lived in a luxury highrise condo, I'd go with the Parisian pic with the loft and skylights just because I can envision going up there to sip wine and watch the lights of the city. If it were a regular home, I'd go with the arched ceiling and comfy white chair space. 
{Lonny Mag, Vogue, Home-Designing, Shelterness, Elements of Style, my Pinterest}